John "Bull" Bramlett was the best at what he did, and what he did best was hurt people.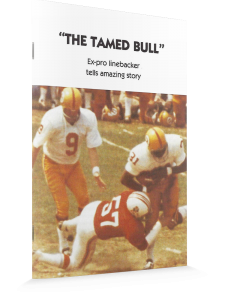 He hurt strangers. He hurt friends. He hurt his wife and two sons. Most of all, he hurt himself.
Being respected meant being tough in north Memphis, Tennessee. As a teenager, John Bramlett could out-smoke, out-drink, out-cuss and out-fight almost any man in Memphis. He was a legend.
Football was a perfect outlet for him. But coaches said he was too small and too injury prone to play. John proved them wrong. He made the All-Memphis, All-State and All-American high school teams as an offensive guard and linebacker, weighing only 160 pounds.
At Memphis State University, John's aggressive violence earned him a position on the football team as a freshman. He went on to be named honorable mention All-American his senior year. He also led the Tiger baseball team in hitting for four years.
Too small for pro football, John signed a pro baseball contract with the St. Louis Cardinals. But his fighting, drinking, drugs and dirty tricks got him kicked out of baseball after two years. Bramlett was unmanageable.
Having cheated his way through high school and college, John's future appeared bleak. But he had one more chance. By strenuous exercise he built himself up from 180 pounds to 223 pounds and tried out for the Denver Broncos. He made the first team as a linebacker and was named runner-up Rookie of the Year behind Joe Namath.
During his pro football career, John Bramlett made the All-Pro Teams, went to two Pro Bowls and was named the "Most Valuable Player" for the New England Patriots in 1970. He also landed in jails all over the country and was named the "Meanest Man in Football."
When he reached this point in life, Bramlett says, "I had everything a man could want: money, prestige, respect, women, television spots, even my picture on bubble gum cards. I was somebody. I had arrived.
"But something was missing. I was never satisfied. I was never happy. One night two laymen came by my home and shared how Jesus loved me and wanted to give me a brand new life. They said that all I had to do was ask Jesus for it. I did that. I repented of my sins and asked Jesus Christ to come into my life. And do you know what? He came into my life. And he has given me the assurance in my heart that if I died today I would go to heaven.
"Did you know that Jesus took your place on the cross? He suffered, bled and died for you. He was buried. But three days later He arose from the grave. Jesus lives today. He wants to live in you. That's right. The living Son of God wants to come and live in you. He'll give you what booze, sex, dope, being a big star and having a lot of money can't give you. He'll give you joy, peace and a love for people that you never thought possible. He'll give you a whole new life…if you will let Him.
"The Word of God says, 'Therefore if any man be in Christ, he is a new creature; old things are passed away; behold, all things are become new.' (II Corinthians 5:17) The Bible also says that 'Whosoever shall call upon the name of the Lord shall be saved.' (Romans 10:13) You can receive Jesus right where you are, right now. Just humbly and sincerely pray this simple prayer:
Dear Lord, I am a sinner. I ask your forgiveness, and I ask that you come into my life and take control. Thank you for saving me. In Jesus Name, Amen.
"Now that you have asked Jesus to come into your heart, the Bible says, 'But as many as received him to them gave he the right to become the children of God even to them that believe on his name.'
"I belong to a new team now…God's team. And we have the greatest coach the world has ever seen…Jesus Christ. I'm now serving the Lord in a full-time ministry. Under God's management, I'm a very satisfied customer.
"You can join God's team today, by praying the above prayer. If you would like to receive information that will help you in your Christian life, or if you would like for me and my family to pray for you, please write me. I care."
Yours in Christ,



John "Bull" Bramlett