John "Bull" Bramlett was considered the meanest man in professional sports.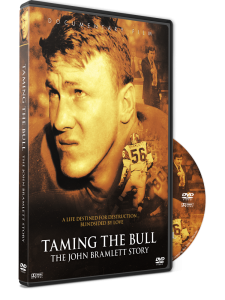 Athletic enough to pursue a professional baseball career with the St. Louis Cardinals, Bramlett's disdain for authority and reckless behavior resulted in his permanent ejection from the game.
A tryout with the Denver Broncos led to an All-Pro NFL career, but as his athletic reputation blossomed, his life away from the field seemed destined for destruction.
Featuring Joe Namath, Tony Dungy, Darrell Waltrip, Bobby Bowden, Larry Csonka, and others, Taming the Bull: The John Bramlett Story is a captivating film about a man who gained the world, and in the process risked losing his soul.
Taming the Bull: The John Bramlett Story is an unforgettable message of hope for every marriage that seems beyond repair, every parent ready to give up, every addict struggling to break free, every person who is searching for significance.
Watch the Trailer Request an Information Kit Downloads
Purchase
Purchase the digital download of the dvd by clicking the button below.
[purchase_link id="816″ text="Add to Cart" style="button" color="blue"]